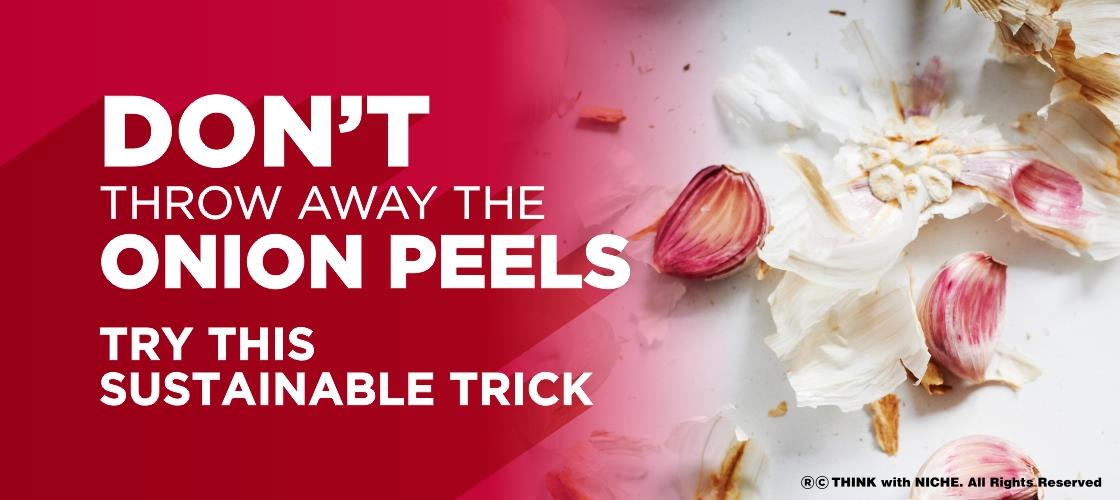 Post Highlights
An onion is full of potassium, dietary fibers, vitamins, and minerals, we use it as a salad, as a vegetable, and it is undoubtedly healthy for us, but what about the onion peels? Yeah, today I am going to tell you a fact about onion peels. To know in detail, read the blog and stay tuned for more. #ThinkwithNiche.
Read our sustainability section here.
Who in their right mind doesn't have onions in their kitchen? To produce the majority of curries and meals, and to make them even more tasty, onions must be used. We eat it raw as a vegetable, in salads, and as a garnish. It's this well-known vegetable that makes us cry every time we peel it, but I'm about to give you a method that will make you grin. What do you do with the onion skins once you've peeled them off? Isn't it just as simple as throwing them away? But refrain from doing so in the future. It can be an excellent fertiliser for restoring the health of your beloved garden.
Onion peels, which we usually throw away without thinking about it, are a fantastic source of minerals including iron, calcium, magnesium, and copper. You may make a natural, zero-cost fertiliser and grow healthy plants in your favourite garden with this substance, which you can't cook.
All you have to do now is save those valuable onion peels and follow the four procedures outlined below. As a result, you can maintain your plants healthy, protect Mother Nature from chemical pollution, and, most significantly, avoid spending more money on fertilisers.
So, These Are The 4 Steps You Have To Follow
Step 1 – Collect at least two to three days' onion skins and keep them aside.
Step 2 – When you are done collecting enough peels, get a big bowl of water and soak them into the water.
Step 3 – Cover the bowl tightly and let it remain like that minimum for twenty-four hours.
Step 4 – Filter the water and utilise the wet pulp, such as onion peels, straight in your garden.
P.S. –Wait a minute, the deep-pink water you're about to toss away contains potassium as well, and you may use it to water your small green plants. So, instead of wasting it, use it twice or three times a month to witness the results for yourself.
For more information, please visit our website- www.thinkwithniche.comWe Encourage Aspiring Writers/ Authors to Share their Articles and Viewpoints on the Categories underlined by TWN.It is a Free Online Blogging Platform to READ-CREATE-SHARE your know-how with Target Groups (TG) of Readers & Leaders.We also provide Content Development Services for the ones seeking the same.Our Aim at TWN is to Equip Young Leaders/ Writers/ Authors/ Visitors/ Readers/ Members with Quality Content Syndication Services @ Categories and Support Sustainable Business Growth for Entrepreneurs and Aspiring Professionals (Leaders/ Writers/ Authors/ Readers)
Read our sustainability section.