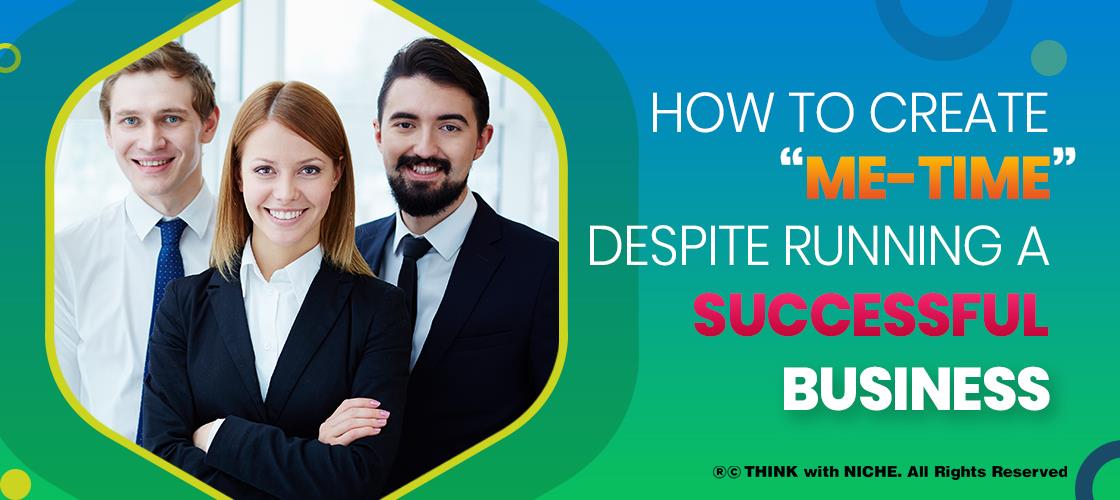 Post Highlights
Everyone deserves their solace despite working on tight schedules. There are many business employees or owners who own a business but are not happy from the inside and that directly affects their business. #ThinkWithNiche
There are people who feel that they lack self-care or "Me-time" when it comes to business. They create a goal to achieve something and devote themselves wholly. They have so much to offer to others that they overlook their space and time. You need to have proper control when it comes to your schedules.
Listed here are the few ways that successful people have worked on to create time for themselves with ease.

Make Room For Vital Tasks By Simplifying
It becomes difficult when you get presented with various options. The best way is to have automatic engagement with work. There are various ways and tricks to use different applications to put your post for publishing. This not only saves time but also makes your work look more organized.

Proper Scheduling
When you are scheduling meetings or communicating with others. Make sure to give some time to your existence. Free yourself for a couple of hours to engage in activities that make you feel relaxed. You can read books, listen to music or even go for a walk. Accomplishing work is not only important but accomplishing a healthy lifestyle is mandatory.

Ignore Meetings That Are Not Necessary
Few people believe that meetings do not yield productivity. The senior department spends most of their time in meetings and the junior employees spend their time planning a status update for the same. You can ask your work organizer about the role that you will play in the meeting. Information or summary can always be extracted from supportive colleagues later.

Create A Communication In Person Rather Than Social Media
Research has proven that most of the average workers spend 6 hours each day when it comes to mail checking. It is not only time-consuming but also distracts you from concentrating. If there is a necessity for communication, try to be vocal and communicate in person. People who are successful plan meetings directly to have clear communication saving time.

Make Work Projects A Priority
People who have harvested success know their work. They know the difference between urgent and casual. The projects need to be listed along with the due dates. If you have no surety for task completion, it is always best to ask people you are working along. The more you gain knowledge, the more you have the power to maintain your schedule. The more detailing you have about your project, the more flexible you will be when it comes to balancing work and time. you do not need to stress about works that can be submitted by the end of the month. Focus on routines and create habits.

Conclusion
When you have control over what you can do and what you can't, it becomes easier to take advantage of the time making work efficient and enjoyable. By few ways of simplifying the process of work and planning a proper schedule for time, you can go a long way when it comes to giving your mental health a rest.
For more business articles, go here. We Encourage Aspiring Writers/ Authors to Share their Articles and Viewpoints on the Categories underlined by TWN. It is a Free Online Blogging Platform to READ-CREATE-SHARE your know-how with Target Groups (TG) of Readers & Leaders. We also provide Content Development Services for the ones seeking the same. Our Aim at TWN is to Equip Young Leaders/ Writers/ Authors/ Visitors/ Readers/ Members with Quality Content Syndication Services @ Categories and Support Sustainable Business Growth for Entrepreneurs and Aspiring Professionals (Leaders/ Writers/ Authors/ Readers)