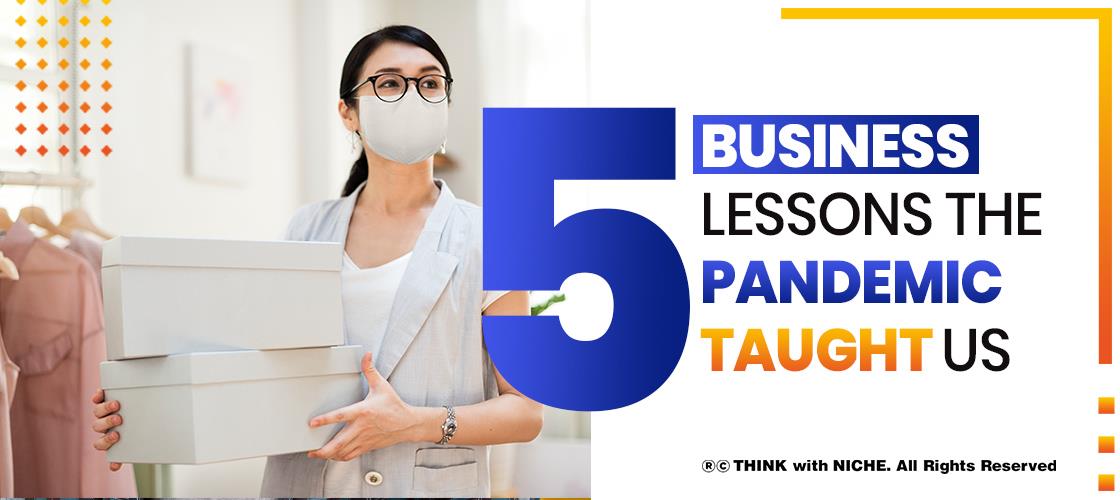 Post Highlights
The pandemic has taught us all some important lessons. Entrepreneurs and big businesses are no exception, however their teachings differ from our individualistic lessons. Let's take a look at 5 of the lessons we learned during the pandemic. #ThinkWithNiche
The pandemic has been like a cruel teacher for many of us. For some, it taught new lessons, and for others, it tried to reinstate familiar lessons they might have conveniently forgotten. Either way, on one hand, the COVID-19 pandemic has done insurmountable damage to many people's lives, however, it has also helped many in understanding some hard lessons. Especially for corporations and big organisations, because they have firsthand experience with one of the biggest natural calamities of the decade and the negative effects it has had on their business.
But thankfully, for humans, the greatest gift is that of hindsight which allows us to see the past in new light and learn from it. So listed below are some of the most hard-hitting business lessons that the COVID-19 pandemic taught us.
1. All Are Equally Important
Companies and corporations in the year 2020 will have finally grasped that we are all connected in the end. That their successful enterprises are like well-oiled machinery that can grind to a halt even if a single component fails. Many businessmen and entrepreneurs are blinded by capitalism's harshness to see their employees as equally human. However, the pandemic should have taught them a useful lesson.
2. Adapt To The Change
Stability is a curse for any business, and many seemed to have forgotten this. When the epidemic hit, the entire planet was put on lockdown for an indefinite period of time. Everything was turned off for the sake of the public's safety. Only those businesses who were able to quickly adapt to the changing tide remained in business, while those that couldn't or wouldn't adapt went out of business. That is how the business operates.
3. Each Experience Is Different For Everyone
If there is one lesson that the pandemic has taught us, it is how unequal the world really is. Inequality is ingrained in humanity's Genes, and the epidemic is a perfect example. While some people struggled to figure out how to work from home, others were forced to relocate from big cities and return to their hometowns. We must never forget the sights and videos of migrant laborers walking hundreds of kilometers to their villages.
4. Spend More Time With Family
People spend less and less time with their friends and families as they work in the corporate world. Many people's jobs are so demanding that it's impossible for them to spend quality time with their families every day. However, because of the pandemic, everyone was forced to work from home, forcing many people to spend more quality time with their loved ones.
5. Diversification Is Necessary
"Don't put all your eggs in one basket," as the phrase goes, and diversity is essential for every organization or company. Many businesses were left struggling to stay afloat as a result of the pandemic, and the majority of these companies had never thought to diversify their operations. Companies that had already built a reputation in many fields, on the other hand, were able to survive.
Read more business articles. We Encourage Aspiring Writers/ Authors to Share their Articles and Viewpoints on the Categories underlined by TWN. It is a Free Online Blogging Platform to READ-CREATE-SHARE your know-how with Target Groups (TG) of Readers & Leaders. We also provide Content Development Services for the ones seeking the same. Our Aim at TWN is to Equip Young Leaders/ Writers/ Authors/ Visitors/ Readers/ Members with Quality Content Syndication Services @ Categories and Support Sustainable Business Growth for Entrepreneurs and Aspiring Professionals (Leaders/ Writers/ Authors/ Readers)