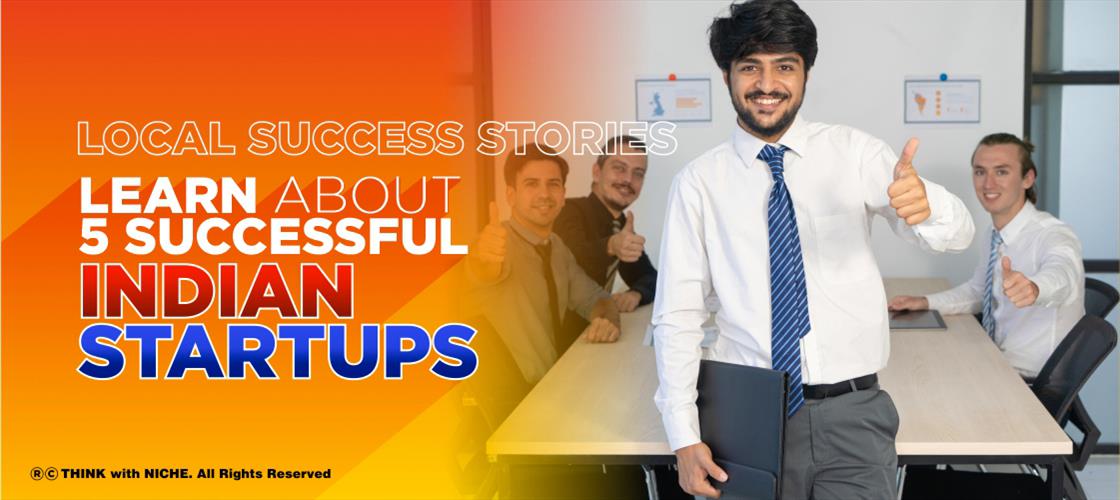 Post Highlights
India has come a long way from being familiar with the startup culture to becoming a startup hub. India can now proudly claim true homegrown success stories. Learn about some of India's most well-known and successful startups. #ThinkWithNiche
Startups have become a modern trend for many engineers and developers. They are considered a true amalgamation of creativity and commerce. Today you have countless startups that work on solving modern problems with modern solutions. All the major companies that you can count on your fingers today had been startups at one point. From Uber to Airbnb to Spacex, you almost have a startup for everything you can possibly think of and yet many get launched every other week. India, which had been slow to this startup culture, has conveniently adopted the startup culture and can now proudly claim to have true homegrown success stories.
The craze for startups among Indians has created such a noise that last year the government decided to launch a program in 2015 to support homegrown startups. The program was launched to help growing startups get funding but overall it aimed to build an infrastructure for budding entrepreneurs to help them get a kickstart. But why is that? Why are Indians so enthusiastic about entrepreneurship? The main reason could be a large number of engineers, coders, and developers in India who are either jobless or have been unable to find work. Many people have been inspired to start their own small businesses as a result of this. The other key factor could be that Indians dislike being told what to do by others. We are truly free birds! That is why so many young Indians want to be self-employed. With that let's learn about some Indian startups and entrepreneurs who went ahead with their wild idea and now have become huge companies.
1. CRED
CRED is currently one of the largest Indian startups. Founded in 2018 by Kunal Shah, CRED has truly grown in size. The basic business model was to award people for paying their credit card bills. When someone pays their credit card bills using CRED, they earn 'CRED coins' which they can exchange for cash prizes or other awards. The idea behind the company was to award people for their good financial habits.
2. Unacademy
Unacademy is today considered a pioneer in edtech. It is popularly known as the 'Netflix of education. Unacademy is basically an app for online courses. One can prepare for national examinations such as JEE, NEET, SSC, UPSC, CAT, IIT, etc. It currently has 50,000+ registered teachers and has millions of users. The pandemic proved to be a good opportunity for Unacademy to expand as more students begin to take online classes. The app was founded by Gaurav Munjal, Roman Saini, and Hemesh Singh.
3. Udaan-
Udaan is an Indian b2b trading app that allows small business owners to trade. It is currently an app designed for retailers to easily do business. The app has over 30,000 sellers and over 3 million retailers expanded over 900 cities. Udaan is currently valued at over $3 billion dollars. The app was founded by Amod Malviya, Vaibhav Gupta, Sujeet Kumar.
4. Pharmeasy-
The simplest way to explain Pharmeasy is that it is 'Amazon for medicines'. It is like an online pharmacy where you can easily buy your meds from. The company was founded in Mumbai, Maharashtra, and has gone from being a small startup to one of the biggest apps founded in India. The reason behind its growth is simple; COVID-19 pandemic. The pandemic saw massive growth in the user base of Pharmeasy. The app has raised over $350 million and became the first-ever Epharmacy unicorn in India.
5. Up-Grad
Up-grad is an online platform that teaches upskilling courses and online programs. Working with India's top universities and teaching institutes, the app creates these courses. The app, which was founded in 2015, is now worth $1.2 billion. Ronnie Screwvala, Mayank Kumar, Phalgun Kompalli, and Ravijot Chugh founded Up-grad.
Read more startup articles. We Encourage Aspiring Writers/ Authors to Share their Articles and Viewpoints on the Categories underlined by TWN. It is a Free Online Blogging Platform to READ-CREATE-SHARE your know-how with Target Groups (TG) of Readers & Leaders. We also provide Content Development Services for the ones seeking the same. Our Aim at TWN is to Equip Young Leaders/ Writers/ Authors/ Visitors/ Readers/ Members with Quality Content Syndication Services @ Categories and Support Sustainable Business Growth for Entrepreneurs and Aspiring Professionals (Leaders/ Writers/ Authors/ Readers)