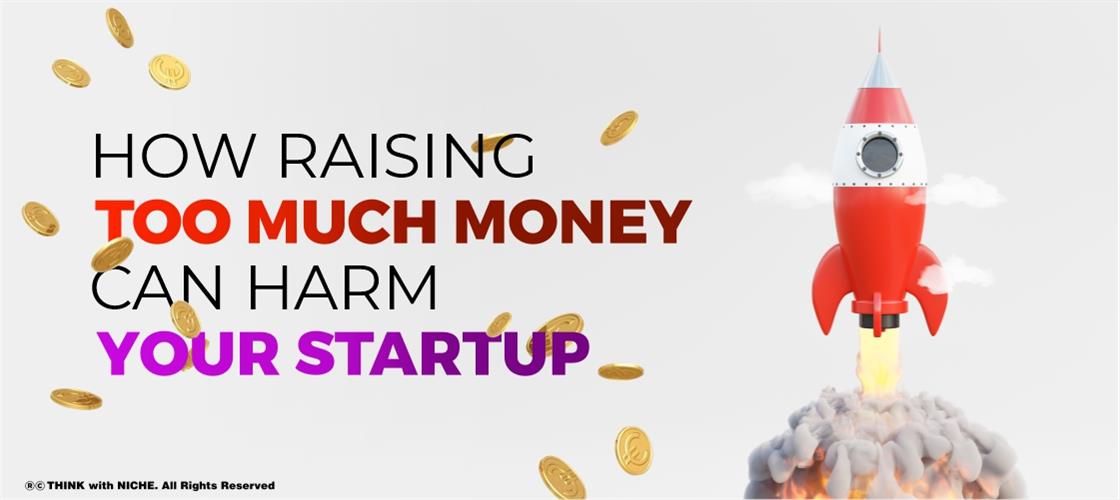 Post Highlights
When starting a business, it may appear that the only thing you require is money. You may have the ideal idea, the motivation, and the dedication, but your budget simply won't allow it. When bootstrapping, it's all too easy to look at well-funded companies and feel that getting funding from venture capitalists or angel investors is the only way to succeed. Although there are obvious advantages to obtaining finance to fuel your business's growth, there is also a risk that it can harm your company. #ThinkWithNiche
The entrepreneur finds himself in a position of insufficient funds after making an unanticipated spend and resumes his search for more investors with investment proposals. The cycle repeats until the entrepreneur can sustain his business, at which point the entrepreneur incurs a significant capital cost. As a result, raising too much money without consulting a business professional always ends up leaving small businesses, particularly start-ups, with no benefit of return.
It may seem strange, but your company's valuation is typically decided by how much money you raise in the early stages. The norm for how much investors want to invest in your firm is 15–30 percent per early-stage round, with the most common range being 20–25 percent.
The most compelling argument against raising too much money in the early phases of your company is that you will almost certainly spend within the constraints of your (now) quite substantial budget, whether or not you need to. If you have money to throw at your firm from the outset, you're much more likely to take a "quantity over quality" strategy. With less money, to begin with, you can concentrate on building your firm at a steady, deliberate pace and addressing those parts that demand attention as they arise.
Of course, you never feel this way as an entrepreneur, but constraints can force innovation. Rather than leading others to complete work, each employee in the organization must complete more work. Because you understand the importance of proof-points in fundraising, everyone in the organization has a very short deadline to meet their goal. Additionally, limited resources drive you to make difficult decisions about what to develop and what not to develop. It drives you to make more difficult decisions about who you'll recruit and who you'll fire.
It forces you to renegotiate your office contract more aggressively and take less expensive space. In a market where wage inflation has been the norm for years, it forces you to keep salaries acceptable.
It will be difficult for the entrepreneur to assure investors of success if they raise too much money based on an uncertain business plan. In any circumstance, investors demand a tenfold return on their investment, and to achieve these expectations, the business owner must increase business turnover by tenfold in the future years. It will put a lot of strain on the company. More money will therefore become the entrepreneur's solution to all of his problems.
CONCLUSION:- In other words, the more money you make, the less control you'll have over your own company. If you're in the startup game just to get rich and famous, and you're ready to take risks to get there, VC funding might be right for you. If you want a quality company that will develop with you, stay in your hands for a long time, and adheres to your ideas, don't raise too much money too quickly. The entrepreneur must ensure that a proportionate percentage of his business income is distributed to the investor on a timely basis, with a portion of it being kept for future limitations.
Read more startup articles. We Encourage Aspiring Writers/ Authors to Share their Articles and Viewpoints on the Categories underlined by TWN. It is a Free Online Blogging Platform to READ-CREATE-SHARE your know-how with Target Groups (TG) of Readers & Leaders. We also provide Content Development Services for the ones seeking the same. Our Aim at TWN is to Equip Young Leaders/ Writers/ Authors/ Visitors/ Readers/ Members with Quality Content Syndication Services @ Categories and Support Sustainable Business Growth for Entrepreneurs and Aspiring Professionals (Leaders/ Writers/ Authors/ Readers)