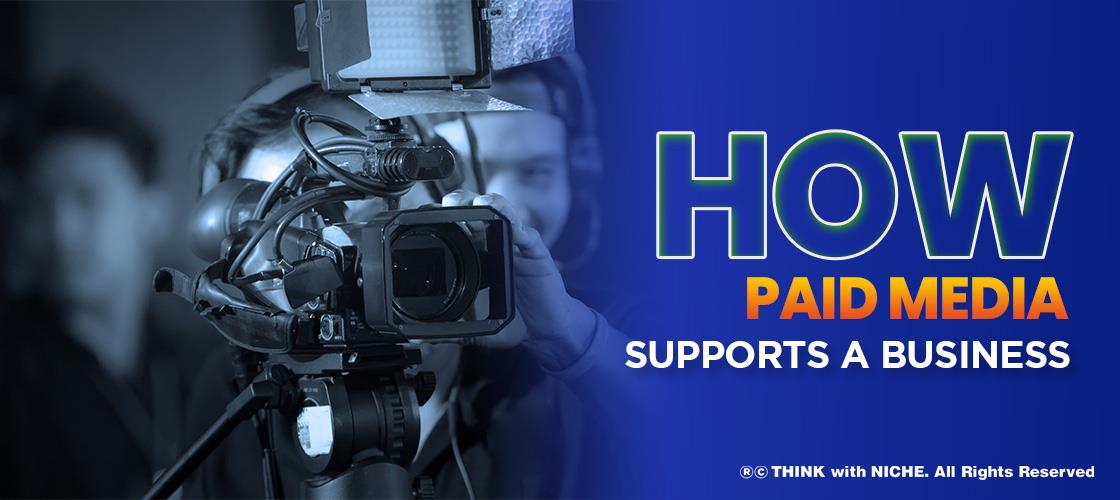 Post Highlights
Companies who pay for advertisements have complete control over who sees their advertisements. This allows businesses to fine-tune their ad's targeting and make it more effective. #ThinkWithNiche
It can appear that a company's own and earned media are enough.Through earned and owned media, positive reviews and word of mouth can help it grow.Sponsored media, on the other hand, is critical for attracting new viewers outside of your core audience. Companies can reach a wider audience by sponsoring content via sponsored media. Sponsored social media postings, influencer financing, and ad placements are all examples of this.
A Higher Rate of Interaction With Target Audiences
There are various strategies for expanding your base, such as targeting folks with marked interests that are similar to yours. Individuals who have interacted positively with your owned media or comparable content can be targeted. For a synthetic grassroots marketing campaign, this ripple effect can be extremely advantageous.
Companies can pay to have their paid advertisements display in the feeds of people with specified interests.Targeting allows advertisers to tailor adverts specifically for their target audience.These placements are sometimes gender-specific or geographical to get the greatest bang for the buck.
Increase Your Exposure
Companies can also increase brand awareness by increasing online exposure. Companies use both informative and dynamic marketing to raise brand awareness.
Prospective clients become familiar with your organization as a result of establishing a well-known brand. You start to form a virtual friendship. Companies can establish a relationship with potential clients by expanding owned advertising.
It's critical for businesses to use paid media to fill the void left by owned media. Posts from family and friends are prioritized by social media algorithms. Organic ad placements and shares on social media platforms have a hard time making an impression.
Companies must finance advertisements rather than rely on organic media for growth. Companies must use competitive social media marketing techniques to stay competitive.
Customer Retention Rates Should Be Increased
To make a profit, businesses must engage and retain customers. Strong digital marketing may help businesses increase their profitability. Companies can boost their return on investment and keep clients for a long time, resulting in long-term profit.
Companies can provide gated content for recurring clients through online engagement. Seasonal incentives for habitual consumers are one example. Customer loyalty can be increased by using gated content advertising and targeted marketing.
As a Brand, Establish Credibility
Positive evaluations and name familiarity help to build brand recognition. Paid advertising allows businesses to increase their brand awareness. Companies can also use online engagement to establish relationships with potential clients.
For any business, brand loyalty and reputation are critical. Companies might use paid media to showcase consumer reviews and comments. This earned media can be used to spread great client experiences.
Increase Your Online And Offline Traffic
For many businesses, online sales account for the majority of their revenue. Paid media can still help increase in-store transactions.
Customers are driven to a company's website when they interact with social media ads. Because of the growth in online foot traffic, this improves online sales. Online marketing strategies, on the other hand, can help in-store operations.
Many customers make in-store transactions associated with social media posts they've seen earlier. We can see how online media has a direct impact on in-store operations.
Even on a local level, effective paid media can help develop awareness around a new firm. To increase foot traffic, small companies might use geographic targeting. Geographic targeting allows advertisers to promote adverts for consumers in a specific location.
Reduces The Cost Of Marketing
Producing online advertisements is inexpensive. They can be used effectively even if you have a limited advertising budget. You can quickly track interactions and increase an advertisement using social media sites. This allows you to track your return on investment for any paid advertisement you place.
Traditional advertising is difficult for many startups and small businesses to afford. Start-ups might spend their money on paid media and social media platforms to increase sales. Companies can spend money on ads to increase internet engagement.
Conclusion
Paid Media is a new revolution of business and services as they are easily available and helps in reaching the audience at no time. It has helped a lot of new business ventures in their growth and will make sure to ignite a whole new possibility of connection in our advanced world.
Read more business articles. We Encourage Aspiring Writers/ Authors to Share their Articles and Viewpoints on the Categories underlined by TWN. It is a Free Online Blogging Platform to READ-CREATE-SHARE your know-how with Target Groups (TG) of Readers & Leaders. We also provide Content Development Services for the ones seeking the same. Our Aim at TWN is to Equip Young Leaders/ Writers/ Authors/ Visitors/ Readers/ Members with Quality Content Syndication Services @ Categories and Support Sustainable Business Growth for Entrepreneurs and Aspiring Professionals (Leaders/ Writers/ Authors/ Readers)