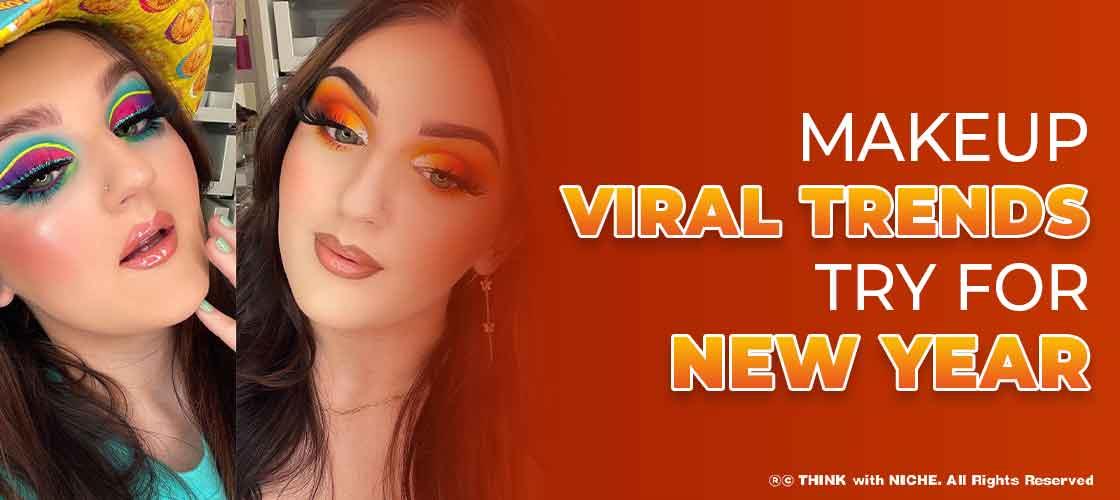 Post Highlights
This year, the beauty industry was concealed with some of the most extraordinary trends that included carving out the 'brows' to the next level. #ThinkWithNiche
2021 has been an overwhelming year for the already blooming makeup industry. We came across extravagant product launches to MUA's shading each other, and whatsoever happened, viral trends kept sweeping across the feeds while keeping the makeup industry precisely active on their toes. This year, the beauty industry was concealed with some of the most extraordinary trends that included carving out the 'brows' to the next level, '100k pout' or going bonkers with 'metallics.'
Picturesque Brow Trends
Extraordinary MUA's switch their 'brows' like lanes whenever you notice somebody experimenting with something picturesque with their brows. It is made viral within a few seconds and is later adopted by a few other MUA's – favoring with a diminutive creative twist. Beauty Instagrammers has their eye set on recent eyebrow trends to reach the winning line. MUA's take longing efforts to make their brow looks to go viral. Some of the picturesque brow trends that caught our eye were – Garden, Halo, Fishtail, Foil, Braided, Gucci Snake, Glitter
MUA's or the general audience were high on METALLICS this year. Long ago, 'shimmer' and 'metallics' were splurged mostly on the eyelids, but now its use is all over the place – Neck, eyebrows, lips, cheeks, nose, and even the shoulders.
100K Pout
Lip enhancing has become such a great obsession within the interest of millennials that it has become slightly difficult to differentiate their real-life facial features from the reel ones. To get on the hype, Huda Beauty launched lip sets made up of giant lips to join the 100K POUT trend. Kylie Jenner's bottle lip challenge got immense popularity, and millennials seemed to enjoy the trend quite well. After all, everybody around managed to grab the 100K pout! Lip injections became quite addictive amongst the young MUA's to fit on the bandwagon. 2021 has been a year full of HOT LIPS and 100K POUTS!
Contact Lens
With the makeup world filled with parallel creativity, MUA's gave their best shot to be able to stand outside the usual circle. Even though this year was filled with crazy art, there was a massive revolution of artificial colored eyes too. MUA's effectively using lens in their concepts created a giant role in the makeup industry.
Face Art
2021 has been by far the craziest year for the makeup buffs. With MUA's or makeup millennials trying various art from the other dimension to succeeding in bringing their own rebellious and flamboyant revolution. This year swirled our vision with crazy things, face art being one of them. Face art granted our wishes to access a new universe – spot the enticing one! Some of the craziest face art we are fans of are – Blank Canvas, Neon Skull, Insta-caption, No Tears Left To Cry, Galaxy/Freckle/Unicorn Makeup.
Yellow Eyeshadow
Just when we thought that we had enough colors to binge on, it crossed our mind that a scar of yellow seemed to look much brighter on the forefront. This year emerged successfully with colors that we disliked throughout our freshmen years. Within a short period, yellow made its way to a humble abode. It turned out to be the top pastel eyeshadow of 2018. We spotted Hollywood celebrities binging on em' too!
Highlighter
Even the least amount of highlighter is never enough for the makeup 'go-getters.' MUA's or the millennial brooding their careers around the makeup bubble, all must carry one obsession in common – a touch of unrestricted highlighter to level up the beauty resume. This makeup trend, when goes 'on point,' turns into highlighter goals. We hope forthcoming makeup trends offer a breeze of freshness. We hope we get an opportunity to bring exclusive makeup trends that are set to make a smear in 2022.
Read more fun articles. We Encourage Aspiring Writers/ Authors to Share their Articles and Viewpoints on the Categories underlined by TWN. It is a Free Online Blogging Platform to READ-CREATE-SHARE your know-how with Target Groups (TG) of Readers & Leaders. We also provide Content Development Services for the ones seeking the same. Our Aim at TWN is to Equip Young Leaders/ Writers/ Authors/ Visitors/ Readers/ Members with Quality Content Syndication Services @ Categories and Support Sustainable Business Growth for Entrepreneurs and Aspiring Professionals (Leaders/ Writers/ Authors/ Readers)