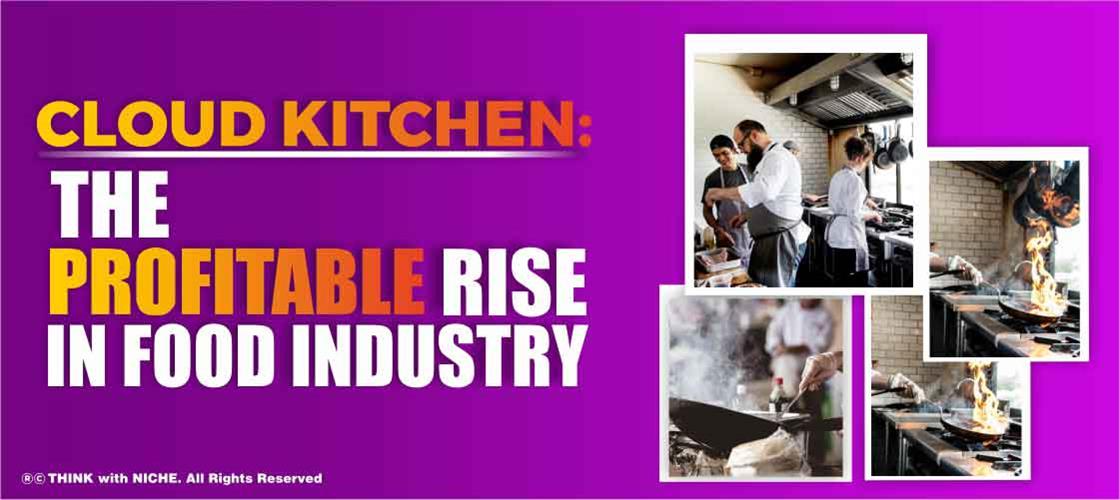 Post Highlights
A cloud kitchen is a low-risk, low-investment alternative for market testing novel culinary items and brand concepts. Because of its operational efficiency and inexpensive start-up costs, several restaurant advisors concur that the cloud kitchen concept provides a huge possibility. After reading this essay, you will understand why you should choose cloud kitchen. #ThinkwithNiche
Benefits of having a Cloud Kitchen
A cloud kitchen is a meal-delivery idea that is commonly run out of a commercial kitchen. Some operators also employ surplus capacity in their current full-service restaurants to provide several food deliveries concepts. A cloud kitchen, sometimes known as a Ghost kitchen or Virtual kitchen, is a commercial kitchen that gives food enterprises the tools and resources they need to produce menu items for delivery and takeaway. Cloud kitchens, unlike traditional brick-and-mortar operations, allow food enterprises to make and transport culinary goods with little to no overhead.
Meal delivery orders surged by more than 150 percent from 2019 to 2020, according to recent statistics, and UBS expects the food delivery business to grow more than tenfold over the next ten years, from $35 billion to $365 billion.
To gather orders and simplify delivery logistics, cloud kitchen-based restaurants employ online meal delivery platforms or their white-label platforms. The meal is subsequently delivered to the customer's home or business using mobile devices. Own a catering business and want a private kitchen as well as ample cold and dry storage space without breaking the bank? Cloud kitchens are an excellent choice. The following are some of the advantages of having a cloud kitchen:
Cost-Effective
When compared to restaurants, the cloud kitchen company has the benefit of having a cheap operating cost. The first reason for the cheap price is because there is less money spent on real estate rental. Due to exorbitant property taxes, onerous employee salaries, and annoying upkeep expenditures, traditional restaurant operators have struggled to stay alive. Cloud kitchens take care of these time-consuming and costly administrative tasks. Because it does not have a customer-facing area, the cloud kitchen concept does not require you to invest money in restaurant design or furnishings. All you need is a kitchen layout and some culinary equipment to get started. The cloud kitchen concept also eliminates the need for a huge workforce.
Low Selling Price
Because of the overhead costs of running a restaurant, your food will inevitably be more expensive under a restaurant model. On the other hand, with a cloud kitchen business, you may have food at a reasonable price while it is made to perfection. Customers can get access to popular culinary products without burning a hole in their finances.
Flexible Menu Options
In contrast to a restaurant, the menu in a cloud kitchen may be modified more quickly. There's no need to spend time and money replacing physical menus when you can change them digitally in minutes. The actual menus accessible in restaurants are far more difficult to update than the menus available on the meal ordering website. Even a little change to the physical menus necessitates reprinting the new menus, which is both time-consuming and costly. The menus of the cloud kitchens, on the other hand, may be simply changed on the internet in minutes at no additional expense. It enables cloud kitchen operators to experiment with menus in response to shifting customer trends.
Experimentation Option
The breadth of experimentation in a cloud kitchen setting is far greater than in any other food-based paradigm. You can make some adjustments and then revert to your previous approaches if one fails. Ideas may be quickly altered and abandoned with very little exposure.
Advantage of Data Tracking
With the ability to collect data, technology assists you in deleting food products that aren't in demand, saving you money and allowing you to optimize your menu. You prepare meals according to consumer demand, resulting in minimal waste.
Food Safety and Quality
Due to rising overhead expenses, businesses in the restaurant-style model are frequently obliged to reduce the quality of their meals. Cloud kitchens, on the other hand, ensure that their cuisine is of high quality. The cloud kitchen idea is exclusively built on supplying clients with high-quality cuisine at affordable pricing. Traditional restaurants have a high cost of operation. Therefore, they have so little money left over to use high-quality ingredients in their cuisine. Therefore, restaurant food has always been associated with being unhealthy. The goal of these kitchens, on the other hand, is to offer value to the clients. Indeed, many of these kitchens' whole marketing strategies are based on the promise of higher-quality cuisine at the same or lower price.
Multiple Brands to Manage
The cloud kitchen business, unlike the restaurant model, is based on a simple formula: one kitchen, multiple brands. Several companies may collaborate under one roof and serve a variety of cuisines to clients without having to invest a lot of money on a site. Running numerous businesses and having a real dine-in location for each of them costs a lot of money. However, with the notion of cloud kitchens or virtual restaurants, numerous brands may be managed under one roof without a significant financial commitment.
More Effective
In terms of efficiency, cloud kitchens are more popular than restaurants. Restaurants find it challenging to accommodate dine-in guests as well as delivery requests during busy hours. The cloud kitchen business, on the other hand, is more efficient since it concentrates on the delivery-only strategy. The shipping procedure is significantly quicker and simpler. A cloud kitchen was created with the express goal of providing an experience especially dedicated to food delivery, from tools and procedures to custom-built facilities and technology. There is a slew of technology companies whose only purpose is to assist your restaurant with running a successful ghost kitchen anything, from idea refinement and piloting to proprietary supply chain, logistics and fulfillment, and facility management solutions.
Conclusion
As the need for food delivery grows, more restaurant owners and food entrepreneurs are looking to cloud kitchens as a viable business option. Cloud kitchens can help packaged food manufacturers expand by providing adequate warehouse space and equipment. Overall, cloud kitchens provide significantly more advantages than traditional restaurant models. As a result of the epidemic, these cloud kitchens have grown in popularity. In the last several years, the meal delivery sector has grown at an exponential rate. The cloud kitchen industry is here to stay, with clients enjoying the cuisine at the touch of a fingertip.
Read more sustainability articles. We Encourage Aspiring Writers/ Authors to Share their Articles and Viewpoints on the Categories underlined by TWN. It is a Free Online Blogging Platform to READ-CREATE-SHARE your know-how with Target Groups (TG) of Readers & Leaders. We also provide Content Development Services for the ones seeking the same. Our Aim at TWN is to Equip Young Leaders/ Writers/ Authors/ Visitors/ Readers/ Members with Quality Content Syndication Services @ Categories and Support Sustainable Business Growth for Entrepreneurs and Aspiring Professionals (Leaders/ Writers/ Authors/ Readers)