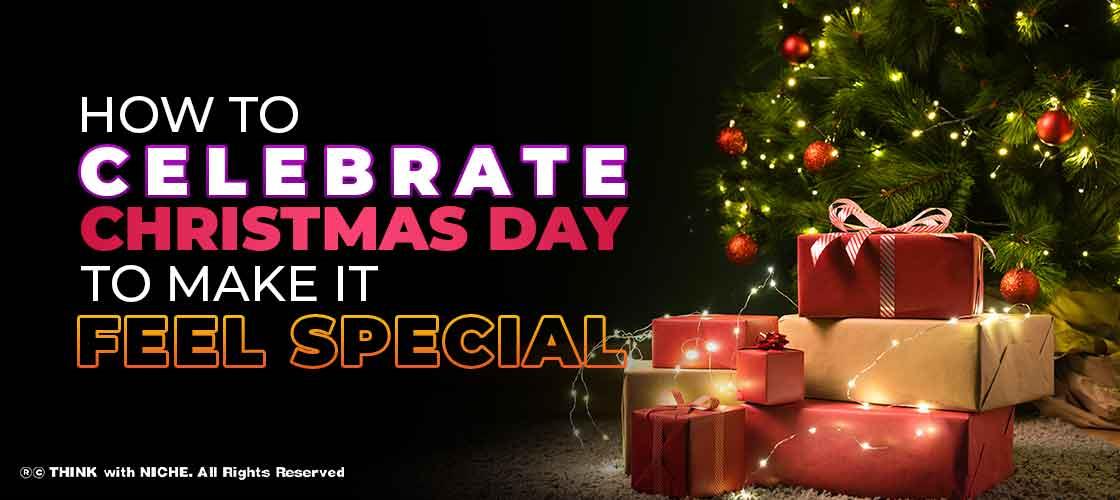 Post Highlights
Celebrating Christmas is a joyous occasion. There are ways you can make the celebration even more ecstatic. This blog talks about these ways. #ThinkWithNiche
Christmas is a time for family, friends, and love. It's also a time to create beautiful memories together. But sometimes, it can be hard to find the spirit of Christmas, especially if you have been alone all year or have been through a rough patch. It doesn't matter what kind of day your Christmas has been so far because there are many ways that you can make it feel special. Here are a few ideas that will help you get into the Christmas spirit and create happy memories to last a lifetime.
How to create a Christmas Tree
One of the easiest ways to bring the Christmas spirit into your home is by decorating a Christmas tree. You don't need to buy one for this! You can make your own. First, find an interesting container to act as your base for the tree. You can use anything from a bucket to an old coffee mug. Next, collect pine needles and branches (leaves will work too) and wrap them in white or red ribbon. Arrange them inside the container in any way that you like. Finally, add some fresh cranberries and other festive decorations like ribbons, bows, and bells. You now have a beautiful DIY Christmas Tree that will look great in any room of your house!
How to Arrange Your House
It's the season of lights, trees, and snowflakes. The best way to usher in the Christmas spirit is by decorating your house. The first step is to figure out if you want your decorations to be traditional or contemporary. Once you have this figured out, you can make a plan for the rest of your decorations. For contemporary decorations, adding fun colors will help set the mood for this holiday season. Stick with blues, greens, pinks, and purples, which are all great colors for any occasion. Try different textures like velvet to capture that contemporary look that many people adore. If you want your decorations to be traditional then go with golds and silvers, along with deep reds and greens. Dressing up your home doesn't have to be expensive either! If you're on a budget, think about using what's already in your home, like branches from outside or pinecones from nearby trees.
What to Cook for Dinner
If you're lucky enough to have family and friends come over for dinner, be sure to make a dish that best embodies the season. If you're hosting a Christmas party (or any party for that matter!) and want to serve an easy, delicious and beautiful dish, why not try these shrimp stuffed with crab and lobster?
Not only are these shrimp elegant enough for a nice holiday dinner party, but they are also easy to prepare. The recipe only takes about 20 minutes to prepare, so it's perfect for when you are in a time crunch. This delicious dish is filled with seafood goodness, so it will give your guests the feel of Christmas. You can opt to serve this dish on its own or with rice or pasta on the side.
What to Eat for Breakfast
Tired of eating the same breakfast year after year? It's time to spice it up! Try a new breakfast dish that will wake you up and give you a boost of energy. There are all kinds of festive breakfasts that you can enjoy on Christmas morning. One popular choice is to enjoy some kind of a pancake or waffle with a side of bacon or sausage. Another option is oatmeal, which has been known as a traditional Christmas breakfast for years. If you want something more substantial, try fried bread dipped in egg yolk and sprinkled with sugar.
What to Wear on Christmas Day
Some people believe in wearing red and green on Christmas day to bring in the spirit of Christmas. If you want to wear red, try a red dress or something with a red top. If you want to wear green, try a green shirt or something with a green bottom.
How to Make this Christmas the Best one Ever!
You may be feeling like this Christmas is just another day. You can't seem to get into the holiday spirit, and it doesn't feel like anything is special. It's important not to let that stop you from making this Christmas the best one ever!
There are many ways in which you can make this Christmas different than any other. You don't need to spend a lot of money or time to make it feel like the most special day of the year. Here are some ideas for how you can make this Christmas your favorite one yet:
Watch your favorite Christmas movie
Make cookies with your kids
Tell someone you love them
Spend time with family and friends who you haven't seen in awhile
Go for a long walk, even if it's cold outside
Read more fun articles. We Encourage Aspiring Writers/ Authors to Share their Articles and Viewpoints on the Categories underlined by TWN. It is a Free Online Blogging Platform to READ-CREATE-SHARE your know-how with Target Groups (TG) of Readers & Leaders. We also provide Content Development Services for the ones seeking the same. Our Aim at TWN is to Equip Young Leaders/ Writers/ Authors/ Visitors/ Readers/ Members with Quality Content Syndication Services @ Categories and Support Sustainable Business Growth for Entrepreneurs and Aspiring Professionals (Leaders/ Writers/ Authors/ Readers)