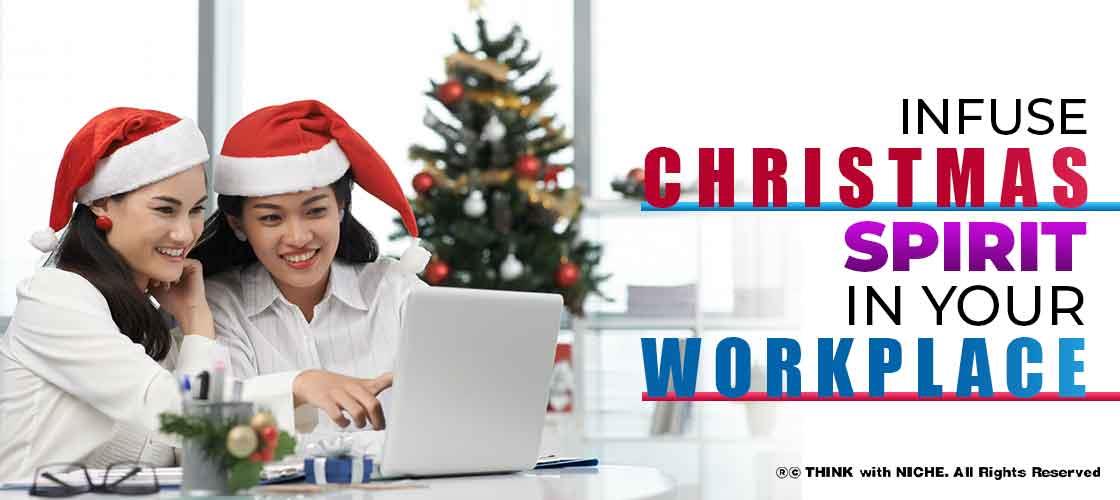 Post Highlights
With the epidemic affecting everyone in recent months, it has become more important than ever before to infuse the spirit of Christmas into the workspace. The holiday season is quickly approaching, and making things pretty special will make employees feel the enthusiasm and lift their spirits in the face of the pandemic's problems. Here are some ideas for instilling the Christmas spirit at your workplace. #ThinkWithNiche
Morale is in desperate need of a lift more than ever before. For the most part, Christmas can do it but expressing that festive emotion at work helps to keep the excitement going. Do nothing, and risk lowering people's spirits as they force themselves to their desks, thinking as if work is standing in the middle of celebrations and meaningful family time. Employee morale and efficiency are inextricably linked. Christmas is an evident time of year when production levels fall. It could be attributed to overworked employees and the thrill of the Christmas holiday. If you promote Christmas joy, you may be able to enhance staff morale. Creating a cheerful atmosphere in your company during the holidays by organizing a Secret Santa or something else will spark conversation. Here are some pointers to get you started.
Use Christmas Decors
The Christmas tree represents the joyous season. Place it in a visible position for staff, such as the lobby area. Using Christmas decorations to decorate the corridors will assist in making the office even more cheerful. Everyone will feel energized and happy as a result of it.
Tune in to Christmas Melodies
Play Christmas music. Keep the level low so that your employees can work on their tasks while listening to pleasant background music.
Prepare a Secret Santa
Ask everybody to engage in Secret Santa for extra flavor. Make a list of everybody in the office and ask them to choose one. They will become the Secret Santa for the person they chose and will purchase a present for them. The exchanging of gifts can be offered at the Christmas party or days earlier.
Mail A Festive Magazine
Why not embellish your magazine in the run-up to Christmas if you want to keep your clients excited? Select a beautiful free image, create your magazine cover, or include a cheerful crew photo.
Build a Gift Package
People seek the simplest answer around Christmas since they want to buy gifts but don't want to spend hours doing it. You might help your clients relieve the worry by providing gift packages of your products.
Spread the Christmas Charm
Because social media is designed to be social, use the festive period to add a festive twist to your postings. You will pique people's interest not only in the season but also in your business!
Conclusion
Allow your creativity to run freely this week when it comes to sharing Christmas cheer! Of course, each company is distinct. So, come out with the best possible ways to gear up your employees for next year.
Read more fun articles. We Encourage Aspiring Writers/ Authors to Share their Articles and Viewpoints on the Categories underlined by TWN. It is a Free Online Blogging Platform to READ-CREATE-SHARE your know-how with Target Groups (TG) of Readers & Leaders. We also provide Content Development Services for the ones seeking the same. Our Aim at TWN is to Equip Young Leaders/ Writers/ Authors/ Visitors/ Readers/ Members with Quality Content Syndication Services @ Categories and Support Sustainable Business Growth for Entrepreneurs and Aspiring Professionals (Leaders/ Writers/ Authors/ Readers)