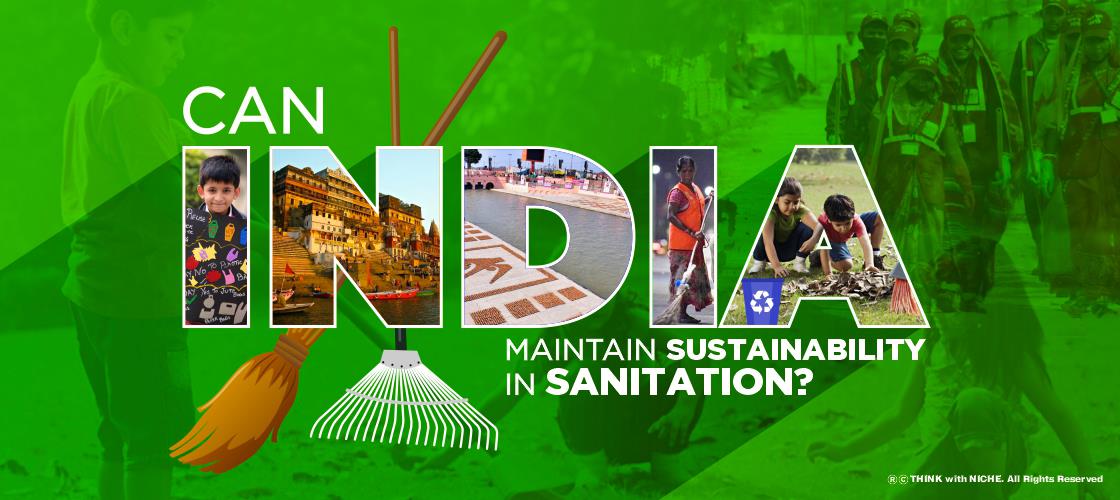 Post Highlights
India has done a lot of work in making it a clean India. But are the steps taken by the government enough to make this possible, or do we need to make more efforts? Read the article to find out what we are lacking in sustaining sanitation. #ThinkWithNiche
Sustainable Sanitation! What do you understand by this term? We all must have heard of the word Sanitation, which describes the safe disposal of human waste. But what does Sustainability in Sanitation means? The term includes the process of collecting, transporting, treating, and disposal of Human Waste.
Mr. Narendra Modi, the Prime Minister of India, started The Swachh Bharat Abhiyan on October 2, Gandhi Jayanti in 2014. The program took off a great start people started cleaning their streets and started maintaining hygiene around them. But soon, it ended up being an activity for Gandhi Jayanti only.
We often compare India with western countries. We praise them for maintaining hygiene levels, which leads to better health care services. But when it comes to our own country, we end up blaming the government and authorities for everything. But, is it only the Government's responsibility to keep these measures in check? But as a Citizen, we also need to take responsibility for this.
When one is told that he is as responsible as anyone else, they end up defending themselves by saying, "Why Am I responsible for this?" Even when we are aware of the reasons. We need to acknowledge our mistakes to improve them. When we praise other countries, we forget how people in those countries take it as a responsibility and do their best to keep their streets, cities, and country clean.
Mawlynnong: The Cleanest Village in Asia
In 2003, a village named Mawlynnong in Meghalaya claimed the title for the cleanest village in Asia by Discover India. The village has used the best reforms to keep it clean and eco-friendly. The garbage bins are made of bamboo, and the garbage collected in the bins is used to make manure. The use of plastic and smoking is banned in the village, and rainwater harvesting is practiced almost by every resident of the village.
The village has achieved all this with the efforts of its residents only. If they would have just shrugged off the responsibility to the next person, the village would not be called the Cleanest Village of Asia and India. The residents of the village are very serious about keeping the village clean.
It could be the best example of Sustainability in Sanitation. They collect the waste and process it to use it in the best way possible. The process of making manure out of waste is an example of this practice.
Mawlynnong village is the best example of sustainability in sanitation. Some things can be hard to bring into practice but, the least we can do is try and do our best. We, as citizens of India, need to take it as our responsibility to take the initiative ourselves.
Take Responsibility
We need to make sure that the Swachh Bharat Mission does not end up as an event to hold the broom and take pictures to update our socials but to bring it into practice in our daily life. We never hesitate to keep our house clean, then what is the hesitation to pick up a piece of garbage and put it in the bin. It may not be a big change, but it's still a chance, and maybe these small things can lead us towards a clean India. And we understand that this country belongs to us, and it is our responsibility to keep it clean and maintain it.
Read more sustainability articles. We Encourage Aspiring Writers/ Authors to Share their Articles and Viewpoints on the Categories underlined by TWN. It is a Free Online Blogging Platform to READ-CREATE-SHARE your know-how with Target Groups (TG) of Readers & Leaders. We also provide Content Development Services for the ones seeking the same. Our Aim at TWN is to Equip Young Leaders/ Writers/ Authors/ Visitors/ Readers/ Members with Quality Content Syndication Services @ Categories and Support Sustainable Business Growth for Entrepreneurs and Aspiring Professionals (Leaders/ Writers/ Authors/ Readers)