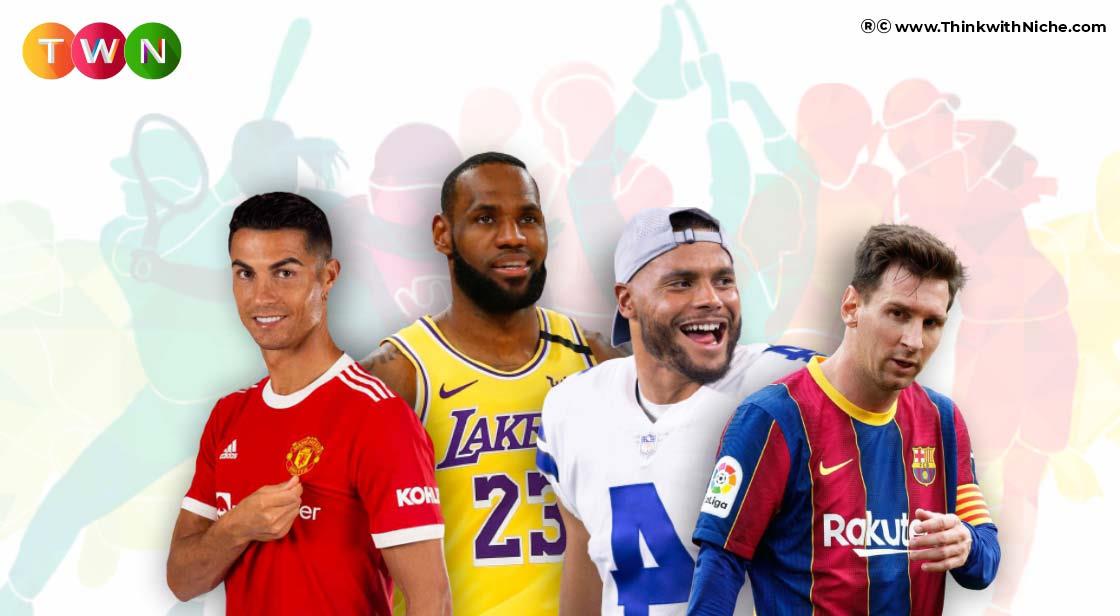 Parents frequently chastise their children for prioritising sports over academics; "This field has no future," is probably the most common phrase heard by every athletic child. Parents are partially correct; only 2% of all athletes make it to the major leagues; for basketball players, it's the NBA; for soccer players, it's FIFA, and so on. Those two percent, on the other hand, frequently make a large fortune for themselves, with some reaching a net worth of more than a billion dollars. So, please don't stop your child from participating in sports, as this is my request to every parent. Rather, show them how to strike a balance between their games and their studies.In any case, this isn't a motivational video. We've compiled a list of the Highest-Paid Athletes who were not only successful in their sports careers, but also financially successful. This blog will cover not only the highest-paid athletes of all time, but also the youngest and current highest-paid athletes.
Let's take at the top paid athletes of this year so far: –
Lebron James
Lebron James Net Worth: $96.5M
Lebron's financial situation has been greatly aided by his move to the Los Angeles Lakers. Only Roger Federer, the tennis legend, has a $53 million endorsement deal. LeBron James is a four-time NBA MVP who also owns a production company called Spring Hills and a media company called uninterrupted. He also owns a production company called Spring Hills and a media company called uninterrupted. He also founded Ladder, a health and fitness company with Cindy Crawford, Arnold Schwarzenegger, and Lindy Wann. He also owns 19 Blaze locations, a pizza chain with locations all over Chicago, with the help of his friends. He is also a paid endorser and investor in the company.
Dak Prescott
Dak Prescott Net Worth: $107.5M
The best quarterback in the league will continue to appear on the list of the highest-paid athletes as the NFL salary cap grows. The Dallas Cowboys have signed him to a four-year, $160 million contract. Along with a $66 million signing bonus. Given that the Cowboys are the most valuable sports franchise on the planet, paying $97.5 million for Dak Prescott to throw a football is a steal. Aside from his football earnings, he made $10 million by endorsing Sleep Number, Seven 11, and Direct TV.
Cristiano Ronaldo
Cristiano Ronaldo's Net Worth: $120M
Cristiano Ronaldo has surpassed 500 million Facebook, Twitter, and Instagram followers to become the most followed human on the planet. He has made around $500 million in ad endorsements alone, the majority of which comes from Nike, which has signed Cristiano to a lifetime contract. His earnings total $120 million, including the $103 million he earns with Manchester United. He has a lot of money to spend on luxury items like cars because he is a potential billionaire.
Tags:
Highest-Paid Athletes, Lionel Messi's Net worth, Cristiano Ronaldo's net worth, Conor McGregor's Net Worth,
To Read This Full Article Click Here
Explore Global Business News, Click Here