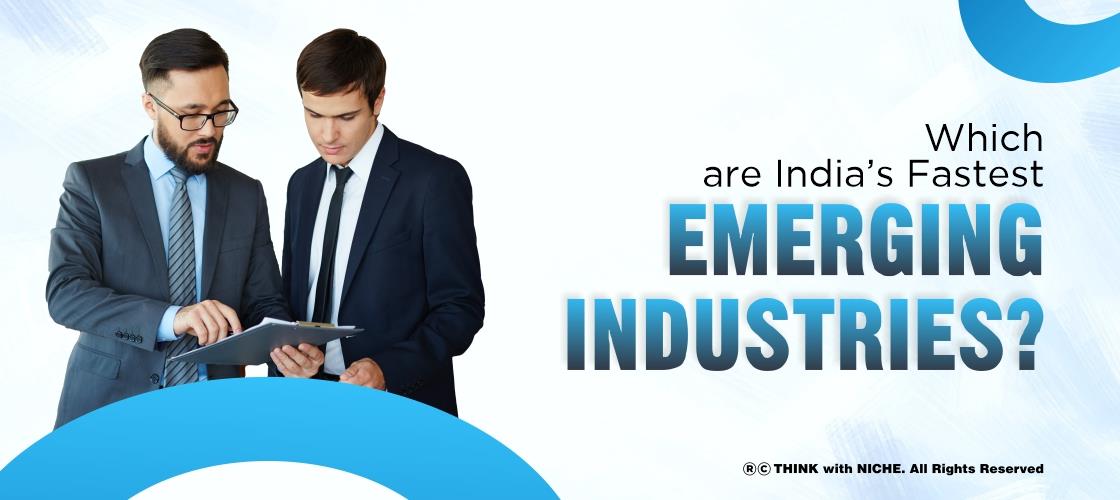 Post Highlights
India is one of the top-performing economies of the world and it is no surprise that more and more businesses are being established here which are reaching new heights of success, if you look at it in one way, India offer opportunities for various industries to grow on its soil, India is like a cradle for emerging industries, while some already exist in its heart, while there is scope for more to nurture themselves and continue to grow. #ThinkWithNiche
India is said to be the land of opportunities and birthplace for various emerging industries that are progressing rapidly, thanks to the suitable environment here and abundance of cheap skilled and unskilled labor, and quick availability of raw material. It is no surprise that industries are the driving force of India's economy and the backbone of its GDP. Industries in India are now seeing a sectorial boom due to technological developments and growing young talent. Reports suggest that more than half of India's GDP is dependent on the growth of various enterprises. We must not forget that industries act as the key link in manufacturing consumer goods and meeting the high demand for goods in the economy. If an industry grows well, it is an indication that other sectors of the economy shall grow too, moreover, industries provide scope for employment for many eligible young people. Industries are known to reduce the rate of inflation in a country and provide various additional benefits to its economy and in this sense, India is blessed to have lots of emerging industries growing by the day, let us a take at some of India's fastest emerging industries-
1. Advanced Engineering and Manufacturing
One of India's top-performing industries is concerning engineering and manufacturing. The Government of India-led initiative, 'Make In India' acts as a driving force to help the manufacturing sector grow. Today, India is a top destination for automotive manufacturers among many other nations, thanks to our effort in developing sustainable green technology. The Government of India is also investing hugely in the innovation and technology sector to help build a nation rich in engineering and manufacturing sectors. Most importantly, what remains a surprising fact is that despite covid-19 led restrictions, India's automobile sector continues to grow.
2. Digital Sector
India is like a pool of blooming young talent who specialize in digital technology and are in no way less innovative than their counterparts in the West. Today, India has over 500 million users on the internet, one can simply imagine the number of Indians who are digitally aware and digitally active. The GoI led initiative of 'Digital India' has been an active drive to help India become digitally active. Due to this initiative, a huge amount of money has been invested in bringing about innovation in the digital sector, creating countless opportunities and innumerable jobs.
3. Energy Sector
Since India remains heavily dependent on coal and other fossil fuel for energy production, the future depends on adopting ways to bring in renewable energy. India happens to be a country with about 1.35 billion people hence the energy demand is quite high, but continued use of coal is not an option, so investors are ready to set up industries that will help generate energy from a clean source and help the planet breathe little lighter. Reports suggest that y 2022, the government has decided to add 175 GW to energy production.
4. Construction Industry
The construction industry is an evergreen one. It has been sustaining itself for the past decades. One must understand that India is a growing economy and needs stronger infrastructure for years to come. Hence investing in the construction industry is one great option. The construction industry contributes a staggering 5% to our GDP, it helps create a livelihood for millions of people and helps the economy grow.
5. Pharmaceutical Industry
When the covid-19 pandemic struck India, everyone realized the need to strengthen our pharmaceutical industry and to invest in it. This industry runs mainly on advanced technology and machines, the aim of this industry is to produce effective medicines, drugs, and vaccines. In India, where a large number of the population suffers from one or the other disease, advancements in the pharma sector will act as a boon to those in question. The recoveries will be higher and there is no doubt that this industry is set to grow for the next ten years or more.
The way India is moving towards progressive advancements in various sectors, it is no surprise that our economy will grow by billions and these industries will reach higher levels of growth in the next 20 to 30 years.
For more information, please visit our website- www.thinkwithniche.comWe Encourage Aspiring Writers/ Authors to Share their Articles and Viewpoints on the Categories underlined by TWN.It is a Free Online Blogging Platform to READ-CREATE-SHARE your know-how with Target Groups (TG) of Readers & Leaders.We also provide Content Development Services for the ones seeking the same.Our Aim at TWN is to Equip Young Leaders/ Writers/ Authors/ Visitors/ Readers/ Members with Quality Content Syndication Services @ Categories and Support Sustainable Business Growth for Entrepreneurs and Aspiring Professionals (Leaders/ Writers/ Authors/ Readers)
For more articles, go to our website.